Our Lockdown Artist!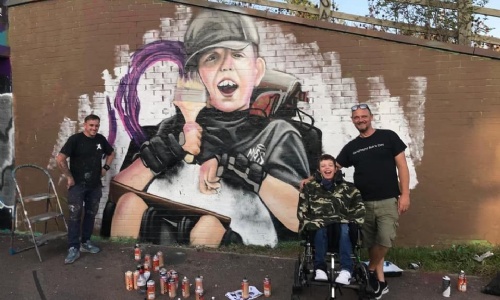 During lockdown Noah started an art project which grew and grew! Noah, @Background_Bob on insta, and his dad sat down to do some painting. However, what happened next, no-one could have predicted! Due to their love of street art they posted on instagram to ask if any artists would like to collaborate in producing some pieces to auction....... around 250 artisits from all around the world replied and work is still arriving now!
A book containing all the artwork, is now on presale so please use the link below to go and order a book. All proceeds of the book will go to the Children's ward at Colchester hospital.
http://colchesteripswichcharity.org.uk/supporters-events/backgroundbob/?fbclid=IwAR0p6_HXGrci3k8YOEJRUXaO6pmbEsPML34CR1sopTIhKy-Ti8Kenkwav-Y
An exhibition is also being held at Firstsite Galleries Colchester from the 24th October until the end of the year.
https://www.bbc.co.uk/news/uk-england-essex-54301568?fbclid=IwAR2Y5PXGF6wTJoHfmxhzAhgp-wHw4aZCuymd6qUiRRofPCYfmImamVRw3SM